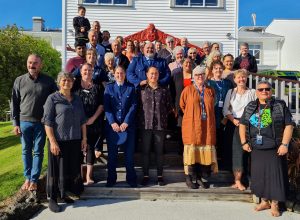 We welcome experienced Doctors, Nurses and Midwives who are seeking new challenges and opportunities to contact us.
For more information please contact Natalie Stevens in Human Resources on Ph: 09 405 7320 or email HR@hokiangahealth.org.nz
Hauora Hokianga is an equal opportunities employer with Immigration New Zealand employer accreditation.
Rural Registrar
Rural Registrar applications are open for 2023. You will be joining a recognised Māori health provider and established centre of learning. This is a fantastic opportunity to broaden your skillset through exposure to a wide variety of presentations working within a close-knit, supportive team. Our service combines comprehensive primary care with an extension to inpatient management in our rural hospital which provides primary / secondary interface, and 24/7 emergency care including participation in the on-call roster as well as rehabilitation and palliative care. We have 10 acute beds, 10 continuing care long stay, maternity, X Ray unit, as well as outpatients and community allied health services.
Our setting works well for Rural Hospital – level 2 and Rural General Practice runs to be carried out in tandem over a 12-month placement. Accommodation within walking distance to the Hospital is provided.
For more information, or to submit an application send a cover letter and CV to Natalie Stevens in Human Resources.
Medical Officers
Our Medical Officers are rural medical generalists with fellowship in General Practice and/or Rural Hospital Medicine. We combine comprehensive primary care in our rural clinics with an extension to inpatient management in our small hospital which provides primary / secondary interface, and 24/7 urgent care including participation in the on-call roster as well as rehabilitation and palliative care.
Primary Health care services include the diagnosis, management and treatment of health conditions, and referral to hospitals and specialists.
Despite its small size, Hauora Hokianga is committed to being a learning institution. The wide range of socio-economic circumstances and health care needs in our community provide a broad training platform.
We are a Rural Training facility and provide training in association with Auckland and Otago University Schools of Medicine, Northtec and Unitec.
Not registered in New Zealand? 
Visit www.nzlocums.com who hold the Government contract to recruit overseas General Practitioners and Nurse Practitioners into New Zealand. This is a free rural recruitment service that can assist with registration, immigration, taxation and indemnity cover.
Other useful links:
Medical Council of New Zealand  www.mcnz.org.nz
Royal NZ College of General Practitioners www.rnzcgp.org.nz
NZ Medical Association www.nzma.org.nz
MPS NZ www.medicalprotection.org/newzealand/home
Nursing
Our hospital-based nurses cover a mix of accident and emergency, acute inpatient and long-stay geriatric patient care, to hospital level residential care clients. They recognise and participate in the commitment to high quality delivery of care to all their patients. They must be able to demonstrates a high level of personal accountability and have effective skills in planning of client care, deployment of staff and resources.
Our community health nurses provide comprehensive and integrated mobile health care services in each of the remote communities surrounding the Hokianga Harbour. We offer a single point of care for people in their community to access services ranging from preventative care to proactive support, to live and manage their long-term medical conditions.
We continually look for innovative ways to provide care to the people of the Hokianga and with nurses working to the full extent of their scope we are always investigating the potential for expanded practice.
For other information, visit:
New Zealand Nursing Council: www.nursingcouncil.org.nz
Midwifery
Eharataku I toatakitahiengari, he toatakitini
My strength, is not the strength of one, it is the strength of many
Hauora Hokianga provides an integrated maternity service including Lead Maternity Carer, Te Ao Marama Birthing Facility, Homebirth, Primary Health Care, Childhood health, including support for Hine Kopu wananga, Breastfeeding, Parenting support, Well-child Tamariki Ora, and Immunisations.
Midwives are the main provider of care for pregnant women in the Hokianga either in the community or our maternity unit. Our birthing facility is independently quality accredited under the Health and Disability Sector Standards and the Baby Friendly Hospital Initiative.
Training Placements
Hauora Hokianga provide a range of opportunities for under-graduate and post-graduate training placements for students of medicine, nursing and a range of ancillary health disciplines.